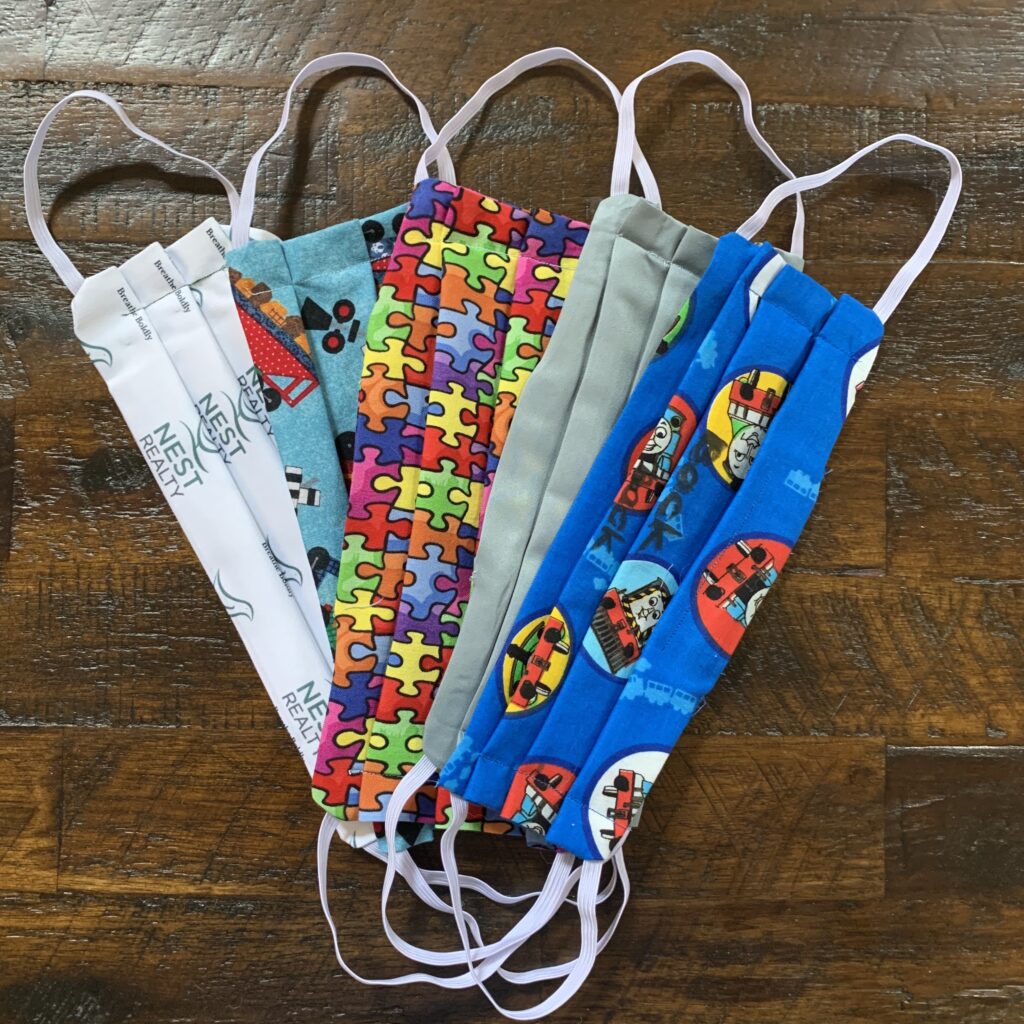 When the pandemic quarantine started, having everyone at home was a bit of a shock to both my wife and me. Add to that the fact that we were both still working while our son was out of school and you have all the components necessary for disaster. So one of my first thoughts in mid-March was "what am I going to do to keep my son engaged and interested?" That was followed quickly by "how do I keep my somewhat germaphobic son from being afraid and anxious all the time about the coronavirus?
Then I read about crafters sewing masks to help first responders, and I had an idea. Rushing to our basement, I discovered several yards of Thomas the Tank Engine fabric we bought years ago for a long forgotten project. Thinking out loud to my wife, I said "maybe if we make masks out of this material, our son will wear them and feel safe." She enthusiastically agreed, so she got our sewing machine back from her parents and we started sewing. This was around the end of the first week of April.
So y'all have some history on why I thought of this, I learned to sew as a child. My dad taught me, and his mom had taught him. My dad grew up on a farm so learning skills was how you survived. My grandfather on my mom's side also taught me a bit after my dad got frustrated. This frustration would normally happen after I bird-nested the bobbin thread because I sewed too fast. Apparently I didn't follow directions well and rushed through things as a kid. Nobody who knows me now would ever guess that, am I right? So I have this small family tradition of sewing, and I felt I could teach my son to sew and carry it on another generation. Plus Kelly's mom sews as well, and apparently that is a learned skill in her family too. So even better as we get to combine family traditions into our shared heritage.
That said, the devil is in the details. I have not used a sewing machine since I was in my 20s, and I turn 50 this year. It took a few days of reading the manual and attempting to sew masks before I really got back in the swing of things. However, I did learn how to do some things that had eluded me before, like how to raise the bobbin thread and backstitch quickly without screwing everything up.
Also, the mask types were confusing. I wanted a mask that I could insert a filter into if I chose, but many of them doubled up the fabric so much I broke my needles. Kelly and I researched and tried several patterns before we found one that I could repeat quickly with the needles intact. That took about a week and a half as we cycled through pattern after pattern and broke needles left and right. However, we finally got it right and were able to produce our first masks to give away on April 19th.
The pattern we settled on is by Leah Day and her page is hyperlinked. We like it because it has few cuts and is simple. It also makes good use of fabric and has a child sized pattern. There are a bunch more out there. In fact, Jo-Ann Fabrics has a whole project page dedicated to masks. However, this one is our favorite by far. So we made our first masks and my son went nuts.
Along the way we talked about why we make masks, why they are important, how they keep people safe, and why we were giving them away. We have always taught to Raymond about volunteering and giving back to our community, as that is a family value. It's also how Kelly and I met, so we both believed in it prior to getting together. This project was another opportunity for us to live our values and help other people. At first our community was family and friends, but as we make more masks we are expanding our circle of giving.
The most amazing thing is how focused and motivated about mask making Raymond has become. Every day he asks me when we are making masks, and I never get an argument when I call him to start working. He has learned to iron, cut materials, and sew, although he is as impatient as I apparently was as a teen. But the best thing is that it gives him joy to make and give these away. So by expanding our giving circle we are also expanding our joy.
Kelly is still learning to sew, but her core competency is managing operations, so she searches out new fabrics, finds discounts, and helps keep the process moving quickly. She also manages to find discount codes like a ninja, which helps us as we are doing this on a shoestring budget.
We came up with the name today. M.A.S.C means "Making A Safer Community" because we are helping folks not spread germs, which helps everyone around us. As of this afternoon we have made and given away 47 masks, and we will probably make 5-7 more tonight. We have spent a fair amount of money on fabric and supplies, but its worth it for what we are able to give away.
So there are two things we need. First, we need to know folks who need masks so we can get them covered. If you know of anyone local that needs masks, let me know. We will go into detail in our next post, "The Care and Feeding of your M.A.S.C." but we use clean cloth and wash our hands. We don't have the wherewithal to mail masks out yet. We can donate some to local nonprofits, but we produce 5-7 masks a day max so we can't outfit an army overnight.
The second thing we need is supplies. We have bought some fabric and geared up with needles and thread, but we can always use more. If you want to make a cash donation of some sort so we can buy more material, email us and we will give you our Venmo, PayPal, or Apple Pay info. We are not a nonprofit though, so it won't be tax deductible. If you want to donate fabric or other supplies and are local, message us and we will figure out how to link up.
In closing, we are overjoyed at how this project has brought our family together. We all sit around our kitchen table in the evenings making masks. We take turns picking songs to play so the soundtrack always changes, but it is family time that is different than anything else we have done. If you want to do this yourself and need some guidance, hit us up. We are happy to share what we did in hopes it will work for you. In the meantime, we will keep making masks so y'all let us know if you need them. Stay safe and wash your hands!